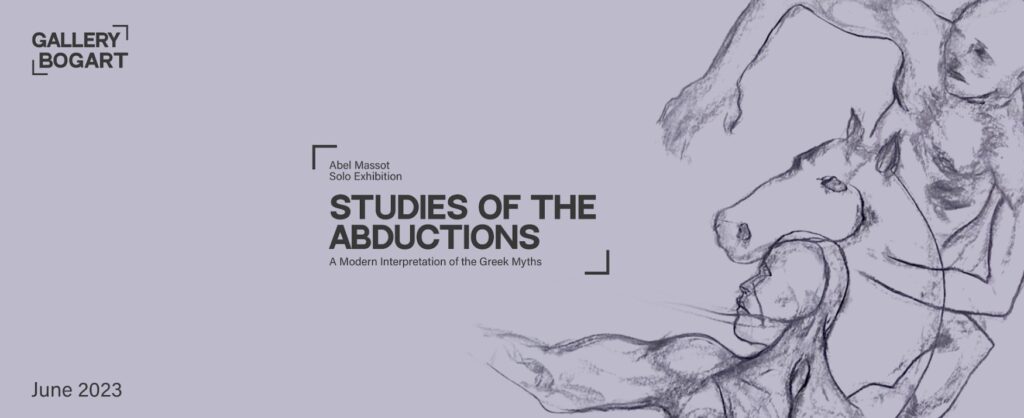 Studies of the Abductions – A Modern Interpretation of the Greek Myths 

A Solo Exhibition by Abel Massot 

Opening reception: Friday, June 2nd from 4 pm to 9 pm 
Location: KC Crossroads – 122 Southwest Boulevard, Kansas City MO 64108
You are invited to join us for our exhibition featuring drawn studies by Abel Massot, depicting Greek mythological abductions. This exhibit intertwines the classical depictions of these abductions with the exploration of Athenian marriage culture and their relevance to contemporary society. Additionally, it unveils previously unseen works, showcasing Massot's artistic progression leading up to the eagerly awaited series of paintings, "From Myth, The Abduction" that the gallery will showcase later this year. We present the studies of the paintings in advance as a practice in the creative process mirroring the exhibition timeline which feeds into the same feelings of anticipation and culmination.
Massot's artworks offer a fresh and contemporary perspective on the Greek mythological abductions, depicting residents of his Havana neighborhood as Greek gods and mortals. Through this portrayl highlighting themes of power, desire, agency, and gender dynamics. They reflect both the attitudes of Athenian marriage culture and the enduring issues faced by groups in our society today. Through bold and expressive strokes, Massot captures the raw emotion and drama inherent in these stories.
In addition, the exhibition unveils previously unseen works, revealing Massot's artistic evolution over the past six years. These works act as stepping stones, showcasing his growth, refinement, and the emergence of new distinctive techniques that will be featured in his forthcoming series.
Immerse yourself in this captivating exhibition, engaging with Massot's vibrant artworks, contemplating the cultural and social significance of Greek mythological abductions, and tracing the artist's creative journey. It bridges the ancient and the contemporary, sparking dialogues on power, gender, agency, and the ongoing pursuit of equality. The culmination of Massot's recent artistic journey provides context for the highly anticipated new series of paintings, which will be exhibited later this year.